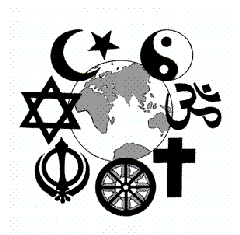 I've talked about the heavens, and I've talked about the Earth – so now, lets talk about one of the ways humans have linked the two together.
Religion is a topic I could discuss at great length, as there are a lot of interesting aspects to it.  The core of all religions hold a framework that explains the universe.  Usually it involves some supreme being — a God who not only presides over Earth, but all of existence.  Usually this God is a mysterious figure, whose intentions are made known through occasional mystical interaction with the creatures of Earth.
There are two main avenues of discussion in religion.  The first is the aforementioned existence of a supreme being. The second is organized religion itself, and its role in formalizing and publicizing specific beliefs.
(Just a side note: in the interest of keeping this blog post manageable, I don't go into too much detail. But please, if you'd like to discuss a particular point more, feel free to comment.)