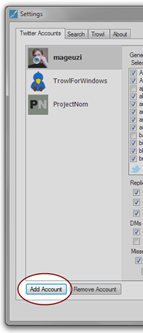 Twitter recently announced that they're adjusting application permissions such that DMs require a new level of access. To ensure that users know exactly what is being accessed by the programs they use, Twitter wants users to re-authorize applications that require DM access.
If you use Trowl to view DMs, or you use the DM remote feature, you will need to re-authorize Trowl to access your DMs. otherwise you will start getting errors at the end of June.
Luckily, it's pretty easy to do this. The first step is to go to the settings screen and click on 'Add Account', like the screenshot at the right shows. This will take you to the usual authorize screen, as if you were adding a brand new account. Click the link, and you will be taken to the Twitter website to authorize your account. The screenshot below shows the important part – that you will be allowing Trowl to access your direct messages.
After you enter your username and password, you will get the pin to enter back in Trowl. After you do this, Trowl will realize you authorized an account you already have set up, and will simply update your existing account with the new authorization. You will need to repeat this process for all accounts you use with Trowl. Click 'Save' to confirm the new authorizations and you're done.
(One other minor thing to note: I run Trowl on several computers, and each instance is authorized for the same Twitter accounts. One thing I noticed is that as soon as I re-authorized one instance of Trowl with the new access permissions, the access permissions used by the other instances of Trowl instantly became invalid. So, if you have a similar situation, you will need to update every instance of Trowl. I imagine this isn't a common situation, but wanted to mention it just in case.)
What if I don't want Trowl to access my DMs?
If you actually don't want Trowl touching your DMs for whatever reason, then you can either refuse to re-authorize Trowl – in which case you will get errors whenever Trowl attempts to access them – or you can change your settings to not Growl DMs or use remote DM commands.
This is a bit of a nuisance, so thank you for taking a minute to do this. I understand Twitter's motivations, but I can't help but think there must have been a more streamlined way to implement this.
Anyway, that's it. As always, if you have any problems, send me a tweet!