I really like Fish and Chips.
Okay, I know I shouldn't drop bombshells like that from the get-go. I apologize if half of what you were just sipping is now a fine mist coating your computer screen.
But in all seriousness, it has been a while since I've had the kind of Fish and Chips that I remember from England. There are a lot of British foods I adore, but most of them are either packaged & shelf-stable (and thus, easily shipped), or have close approximations crafted by companies here in the US. Unfortunately, the same cannot be said for Fish and Chips; and, it's still rather impossible to ship food from some random chip shop in the middle of England to another country.
So, I keep looking. One recent entry that pinged my radar was from a place called Velvet Taco. This is a Dallas-based shop, which will be opening an Austin location sometime in 2016. Their menu is filled with unique tacos, but the one that caught my eye straight away was — you guessed it — a Fish and Chip taco.
They weren't lazy about it either. A quick search for "fish and chip taco" on Google reveals several variations, but none that really capture the imagination. (Tilapia and anemic frozen french fries? Tartar sauce? Rice Krisipes??) Instead, we're talking beer-battered cod, malt vinegar-infused chips and curry mayo — which, while not traditional, is a more uniquely British slant on Fish and Chips than tartar sauce.
Now, I've never had the actual taco from Velvet Taco, and I'm not sure when I'll get the opportunity to. But my best estimate — a nebulous "2016" — was too far away. So it was time to figure out how to recreate this compelling idea in my own kitchen.
During this experimentation phase, I decided to take the easy path on two components. The fish I decided to buy frozen from the supermarket — good quality, beer-battered cod, of course. Sure, I could make this from scratch myself, and maybe I will try that one day. But it's a bit of a hassle, especially on a weekday. If you can find a ready-made substitute that tastes good, go for it.
(Yes yes, I know: how can I talk about frozen fish when I just used the phrase "anemic frozen french fries"? In my experience, frozen breaded/battered fish reheats better than frozen potato. Whereas the fish will get crispy on the outside and moist on the inside almost every time, the potato fries can be more unpredictable depending on brand, oven and time. So I'd rather put effort into the more temperamental component.)
The curry mayo also couldn't be simpler: take some store-bought mayo that you like, then stir in curry powder, cayenne, and a hefty dose of lime juice. Let sit for at least an hour. Done.
That leaves the most important component (at least to me): the chips.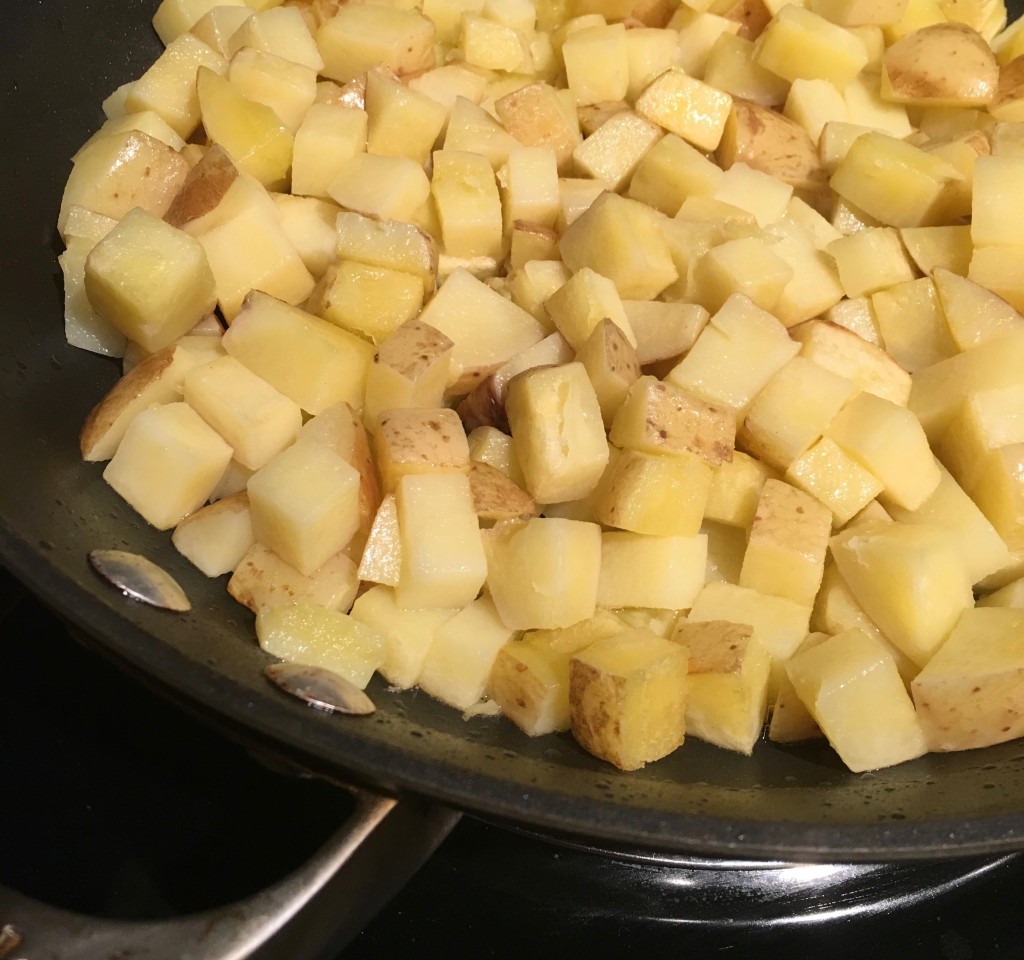 Serious Eats has a killer recipe for chorizo and potato tacos, and it is their method for cooking the potatoes that I use for this recipe. Boiling the potatoes in vinegar helps keep the pectin intact, allowing the potatoes to keep their shape, and make it easier to crisp up into little cubes of love.
Wait, did I say vinegar?
Yes, vinegar: the preferred condiment for any British Fish and Chips. Specifically, malt vinegar. Instead of the white vinegar called for in the original recipe, I substitute malt vinegar. Convenient, no?
The result is a taco that may not resemble an order of Fish and Chips from a chip shop in England, but it's damn good and hits all those notes I crave when I'm thinking fish and chips: crispy battered fish, fluffy chips, savory malt vinegar and a kiss of salt.