Last month, I wrote a post about my weight loss attempts and initial successes. One of the key points I talked about was motivation: losing weight is all well and good, but it's nice to have something concrete to work toward and show off. Personally, I wanted to improve my wardrobe, so I found my motivation in clothing. To make things even more interesting, I decided to try a couple of new online options that attempt to shake up how men approach style and shopping for clothes.
Bombfell
The first place I signed up for was Bombfell, which is essentially a clothing subscription service. You sign up, enter some information about yourself, and then every month a stylist sends you clothing.
You can give requests for the kinds of clothing you'd like to receive ("I need a great pair of pants this month!"), or you can leave it up to the stylist. Either way, you get an email beforehand with pictures of what was picked out, and you can choose to either go ahead or hold off for the month. One great thing about Bombfell, though, is that it's free shipping both ways. So unless it's something you really know you're going to hate, why would you turn down the chance to try on some swanky new clothes?
Once you receive the goods, you have ten days to try them on, get feedback from friends, and decide whether to keep or return. Once again, return shipping is free — you just need to go to their website and say what you didn't like so that your stylist knows what to look for in future.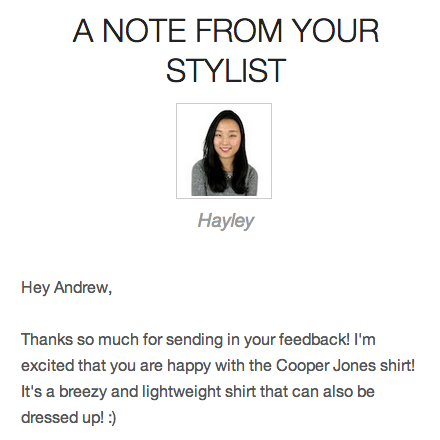 The one thing to note about Bombfell is that it's expensive. The clothes you receive look great and are very high quality — but that comes at a price. I can forgive that a little due to the fact that you're getting a great service with no monthly fees, but it's something to keep in mind.
If you'd like to try Bombfell, you can use my referral link to receive $25 off your first shipment of clothes. It's a good way to try it out and see what you think!
Frank & Oak
I've been curious about Frank & Oak ever since I saw an online ad for them late last year. Their sales model is more traditional than Bombfell in that you choose your own clothes. I had waited so long to try them, though, because it's obvious from their style that they cater more to a slim fit — something I never could have pulled off until recently.
While Frank & Oak is more traditional, they do have a few unique things worth mentioning. The first is that they are a small operation, designing and selling their clothes all in-house to keep cost down. That doesn't mean they are cheap, necessarily, but you do get great, fashionable clothing for less than it would cost otherwise.
Their designs are also on a monthly cycle: every month there is a new theme, with clothes inspired by that theme. Only a small batch is made, so once something is gone, it's gone. But as soon as the next month hits, you have a brand new catalog of designs to peruse.
This monthly theme ties in nicely with their "Hunt Club". If you sign up for this free membership, you can pick up to three items at the start of each month to try on at home risk-free. If nothing catches your eye for that month, then you can skip. In addition, members get 8% cash back to apply to future orders.
So what's the catch? Well, there are a couple of things to be mindful of. The first is that if you don't explicitly log on to the website and "skip" your monthly shipment, you will be charged $45. It is applied to your account as store credit, but if you don't want to be charged, you need to remember to opt-out. Of course, this only applies if you sign up for the Hunt Club membership.
Which brings me to the second point: signing up for the Hunt Club is almost necessary. Sure, there's a chance you could get charged $45 if you forget to opt-out of a monthly shipment, but the alternative is even more inconvenient. If you don't sign up for membership, then you can of course order clothes like any other online storefront — but if you decide to return any clothes, you only get store credit back. At least with the Hunt Club's monthly plan, you aren't charged for any clothes you decide to return.
Finally, it's worth nothing that Frank & Oak is based in Canada. This means that shipping takes longer than, say, a typical Amazon.com shipment. Especially for me — Austin is a long way from Montreal, and the customs delay only makes it worse. Unless you live in New England, you will want to temper any expectations of instant gratification.
If Frank & Oak intrigues you, you can use this referral link to get $25 off your first order.


All in all, I've been very pleased with both of these services. If I were to choose a winner, I'd have to go with Frank & Oak, just because I've been really pleased with their selection and style. I did have one issue where something I ordered was no longer in stock by the time they got to shipping it, but their customer service was top-notch, and helped make the situation better even though I was never able to receive the item I originally wanted. If you need motivation to lose some weight — or just want to step up your style game a notch or two — I highly recommend taking a look at what they have to offer.