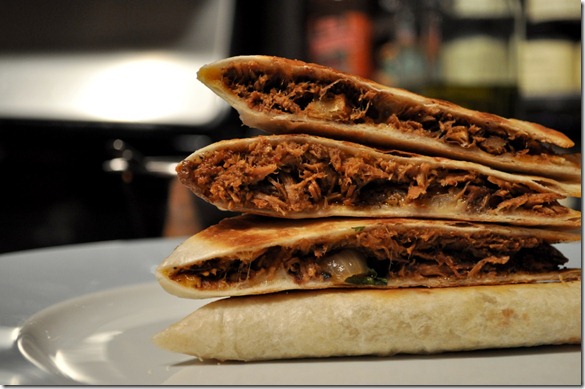 Last week, I made one of my favorite slow-cooker recipes: Slow Cooker Pork Tacos. I used chicken breasts and thighs because @ndoto doesn't like pork, but the process is the same – and the result is fragrant, spicy, earthy, buttery chicken.
A LOT of chicken, with a lot of leftovers. On the first night of leftovers, the tacos are still amazing. The second night, too. But then it starts to get a little repetitive, so I usually mix things up to finish off the last of the meat. Quesadillas are similar to tacos, but different enough that it breaks up the monotony. To add some different flavors, I decided to cook up an onion – and then I saw a couple of potatoes in the pantry that were on their last legs and just begging to be used up.
The one problem with quesadillas – especially quesadillas filled with soft meat like this – is that they can be overly squishy. You get a crispy tortilla, but then a lot of soft filling. So what if I added crispy roasted potatoes? Sounded like it was worth a try.
Did it work? Well, sort of. The potatoes came out of the oven crispy, golden brown and cooked through. But after being pressed inside the tortilla with the moist meat and cheese, most of the crispiness was lost. But, it still added texture, and complemented the rest of the flavors perfectly. If I didn't have the leftover meat, I think the potatoes, onions and cheese could easily stand on their own for a lighter, flavorful quesadilla.
Here's the recipe if you'd like to try it too. Let me know what improvements you make!
Spicy Roasted Potato Quesadillas
Makes about 2 quesadillas without meat; 4 quesadillas with
2-4 12" flour tortillas
2 white potatoes (not russet)
1 tbsp chili powder
2 tbsp olive oil
1 yellow onion
salt and pepper, to taste
1 cup shredded pepper jack cheese
Optional: 1/2 cup shredded chicken
Optional: a few sprigs of cilantro leaves
1. Preheat oven to 450oF. Dice the potatoes fine – no bigger than 1/4". Spread evenly on a baking sheet and toss with chili powder, salt and 1 tbsp olive oil. (You could also just use pepper, or another spice to season the potatoes.) Roast potatoes for about 15 minutes until crisp and golden.
2. While potatoes cook, dice onion and saute in the remaining oil over medium heat. Cook until soft and translucent. Season with salt and pepper.
3. When onions and potatoes are done, heat a large skillet over medium-low heat. Divide the fillings so that each quesadilla will get roughly the same amount. When the skillet is hot, add a tortilla and sprinkle some of the cheese over one half of it. Then add the onions, potato, meat (if using) and cilantro (if using). Sprinkle some more cheese over top, and fold the tortilla in half, pressing down to seal a little.
4. When bottom is golden brown and crisp, flip the quesadilla to crisp the other side and melt the rest of the cheese. Remove from skillet and let rest for a couple minutes before slicing into 4 segments. Repeat with remaining tortillas.