So there was this cruise thing that happened. Overall, it was an amazing experience! Not only was it a traditional cruise, with several ports of call in the Caribbean, but there was an entire entertainment package geared toward geeks.  You can see the details in the link above.
Before I get into all the details of what happened, and what I enjoyed, I did want to briefly talk about what I didn't like.  The cruise ship itself, run by Holland America, was impressive (which I will talk more about in a moment).  The staff on the ship were more helpful than you can imagine – if you wanted food or drinks sent to your room, you could do so, any time of the day.  If you were at the buffet restaurant, and needed more coffee, no need to get up – one of the many waitstaff would be happy to go fetch a refill for you.  All the attention is amazing, but it seemed to go to a lot of people's heads. I've never seen so many self-centered, rude people congregating in one place in my life. Perhaps they are always like that, but part of me wants to believe it was just the environment fostered on the ship.
The other disappointment was the places we visited. While they were beautiful, and the weather was perfect, they were very much geared toward tourists — and parting them from their money. Given a choice, this would not be my preferred vacation.  I would much rather experience a place's culture, not a manufactured tourist trap with nice weather.  I very much doubt that I would do another Caribbean cruise – or, at least, not to the places we visited.
All right. Enough of the negative. Lets talk about the fun stuff!
The Cruise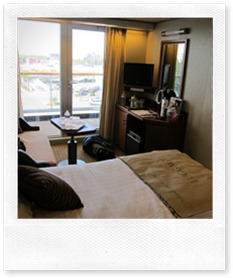 So, as I mentioned earlier, the cruise was a six-day Caribbean cruise, with ports of call at the Bahamas, Jamaica and Grand Cayman.  The Bahamas port was Half Moon Cay, which is actually Holland America's own private island, consisting mostly of a pristine beach, dining area, and souvenir shops.
The ship itself was spectacular. It was huge, containing a three-story theater, casino, four restaurants, two pools, spa, more bars than you can count, and a café – all distributed over eleven decks.  To say that the first day was overwhelming is an understatement.  Luckily, things are well sign-posted, and it doesn't take long to figure out that the ship is arranged by forward/mid-ship/aft and port/starboard positions.
Each day consisted of dinner in one of the dining rooms, and a show in the theater.  The cruise provided their own (rather lame) show schedule, but as part of JoCoCruiseCrazy, we instead had concerts from the likes of Wil Wheaten, Jonathan Coulton, Paul & Storm, John Hodgman, and more.  Dinner was in an amazing restaurant, and consisted of a choice of appetizer, soup/salad, and entrée.  Each day was different, and almost always had a choice of fish, poultry, lamb, beef, or something more exotic.  It was a three-course, gourmet meal every night – and it was all included in the cruise's cost.  Even better, the size of the portions were manageable, such that you didn't feel overly stuffed by the end of dinner service.  In fact, we often had dessert.  By the end of the cruise, I had tasted some of the best scallops, veal, lamb and duck that I've had in a while.
I was amazed by how well-maintained the ship was.  There was hardly any sign of aging on the ship – it was all pristine, as if it had been constructed no more than a couple of months ago.  The stateroom we had was a verandah room.  It wasn't huge, but it was certainly large enough – and the balcony was perfect for getting a breath of fresh air and watching as the cruise ship approached port.
Overall, I'm very impressed with the way Holland America ran their ship.  I would definitely choose to do a cruise with them again, even if it wasn't another Caribbean cruise.  Perhaps the only disappointment in this regard was that the non-Sea Monkeys (i.e. the normals) were of a rather old age group.  While this made for a more enjoyable, more mellow experience for most of the cruise, sometimes it was a bit TOO mellow.
The Excursions

The first stop for the cruise was Half Moon Cay which, as mentioned earlier, is Holland America's private island.  As such, there aren't many residents – and those who do live on the island are there to work for the cruise line and keep everything maintained.  This also means that the only things on the island were a beach, a few souvenir stalls, and a dining pavilion where they provided a barbeque lunch.  All in all, it wasn't a spectacular locale in terms of sightseeing, but it was a well-maintained island, with a beautiful beach.
The excursion I did at this port was snorkeling.  The last time I did any real snorkeling was in the British Virgin Islands when I was younger – which was a truly breathtaking experience.  This time around, we boarded a small boat and traveled out along the shore of the island to a more secluded spot – about a 10 minute ride.  They had ropes to anchor the ship in a pre-defined spot, which was in the middle of three small reefs.  We had 45 minutes to explore them as much as we wanted.  So, after equipping ourselves with masks, snorkels and flippers, we dove in.  There were quite a lot of fish, and several were rather pretty.  But overall, the experience wasn't nearly as amazing as the Virgin Islands.  Still, exploring the lukewarm waters and taking in the perfect weather was enjoyable in itself.  When we got back to the boat, it was swaying with the wind and waves quite a bit.  Much to my surprise, I didn't get motion sick, but Marty did – so once we got back to land, we took it easy for a little while before doing anything else.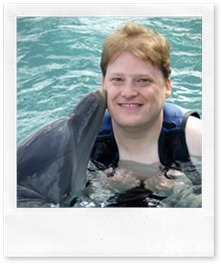 The second stop of the cruise was Jamaica. I did one excursion for this, but it was really two excursions in one: the first, a dolphin swim. The second, a walk up one of Jamaica's most famous natural landscapes, Dunn's River Falls.  Let me just say: both of these were incredible experiences. Out of everything we did, these two excursions will be something I'll always remember. I'm really glad we got the chance to do them.
The dolphin swim was first. We were taken to Dolphin Cove, a rather touristy spot on the northern coast, near Ocho Rios.  There were several activities available, and one of them was to spend some time swimming with the dolphins that they look after. We were put in a group of about six or seven before getting into the water with the dolphins.  After we were given a brief introduction about some of the simple gestures that the dolphins understand, we started doing some interactions with them.  First, we held our arms out as the dolphin swam by so that we could touch him. Next, we lined up and each took turns holding onto the dolphin's fins as he swam back toward the pier. It was amazing when you got to the front of the line for this!  You watch the person in front of you get taken to the pier – and before you realize what's happening, the dolphin suddenly appears right in front of you, his upper half standing straight up out of the water.  As soon as you gently take hold of his fins, he effortlessly swims you back to shore. Then, we took turns getting a "kiss" from the dolphin, his snout pressed against our cheeks.  Finally, we watched as the dolphin swam, "danced" and "sang" to show off some of their unique abilities.
After the dolphin swim, we made our way over to the Dunn's River Falls park.  This is a 1000 foot waterfall that ends right at the shore.  If you choose to climb the falls, you start right on the beach, and make your way up, surrounded by a beautiful forest canopy. The waterfall isn't particularly steep, but the water rushing down has a decent current to it. In addition, there are certain parts where the water forms small pools – when you stepped into those spots, you sometimes found yourself submerged up to your neck!  We all wore water shoes, so it gave us a good grip on the rocks, but it was still slippery at times. We all made it to the top of the falls, but it was more work than we were expecting, and even challenging in a few places. It was a ton of fun, though – and this is despite it being really busy, with a long line of people making their way up the falls. It almost felt like a community effort. Very well coordinated.
The worst part of the Jamaica port was leaving Dunn's River Falls. There were stalls set up at the exit, and the shop keepers were ruthless in getting you to try and stop to look and buy their wares. The Jamaicans make a big deal about having "love and peace" so they try and be your friend, and if you don't show interest, they make it seem like you don't have that same spirit of love. It was a very poor final impression of Jamaica. From what I saw before that moment, it's a really nice country.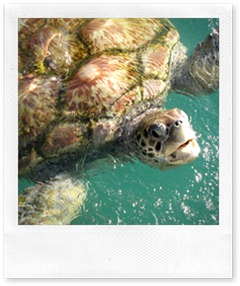 The final port of call was Grand Cayman. Our excursion here was just a tour of the island, which included the Cayman Turtle Farm.  It was interesting learning a bit about the island from the tour guide we had, but the visit to the turtle farm was definitely the highlight of the trip. On the surface, I suppose it was like a detailed turtle exhibit at a zoo. It was all outside, with numerous enclosures for the turtles to live in. There were several species, and some were more active than others. They even had some more endangered species that I assume they're trying to reintroduce back into the wild in larger numbers.
The rest of the tour wasn't as interesting. We stopped off to try the island's rum cake – and buy it, if you liked it. There was also a visit to a town on the island named Hell. The name, and the jokes surrounding it, are rather tiresome, but the landscape that gave it the name was quite interesting.  It was essentially dried limestone columns from when the ocean receded.
After that, we headed back to the cruise port, leaving us some time to wander around the town center. It was slightly touristy, but much better than Jamaica.  You could tell the island had a lot of money, as everything was well-developed and maintained.
The Crazy
Up to now, everything I've written about was the standard cruise experience. But I wanted to say a few words about the JoCoCruiseCrazy part, since it was just as amazing — if not more so.

There were several events that were part of the package, including tabletop gaming, JoCo RockBand, JoCo karaoke and a couple of social gatherings. Perhaps it makes me a bad geek, but I only attended a couple of these events. There were many reasons for this. In the case of tabletop gaming – well, I'm not really a big tabletop gamer. It seemed pretty crowded there all the time, so it wasn't really an environment conducive to learning. For everything else, they always happened late, after dinner and after a day of excursions – and a day with some moderate amount of drinking thrown in there too. In other words, it was sometimes difficult to make the effort when you had a comfortable stateroom waiting for you, with a balcony that you could just relax on, and watch the ocean go by. If we did another JoCo cruise, I'd have a better idea of what to expect, and I think I'd try to manage my time better, so that it would be more feasible to attend these other events.
Having said that, though, I'm not disappointed. The biggest event, and the one thing we never missed, were the concerts. Happening every evening at 4:30, the concert had a lineup of performances that might only be surpassed by w00tstock.
The first night was a traditional Paul & Storm performance. They did their usual songs, and it was as awesome as it usually is. Wil Wheaton also read some of his writings – a few I had heard before, but they also had musical accompaniment by Paul and Storm, so that was a unique treat.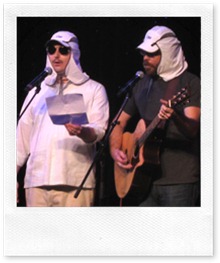 The second night was Jonathan Coulton's turn. He did one of his traditional concerts, performing many of his classics. When appropriate, Paul and Storm came out to give him accompaniment. John Hodgman was also on stage that night. A large part of his "performance" was acting as judge in a couple of minor disputes. One of them was at which times is it appropriate to play Christmas music, and what music is considered "Christmas music" (as opposed to winter-y). John Hodgman also played the ukulele at the end of his performance, which was a little surprising – I didn't know he could play, and he was actually pretty good!
The third night had several performances. First up was Bill Corbett and Kevin Murphy, best known for their work on Mystery Science Theater, but now performing as part of Rifftrax. In both cases, it is the same concept: provide humorous commentary to (usually) less than stellar movies and films. Obviously they couldn't riff on an entire movie for the concert, but they did do a couple of short films. The first was some sort of construction site safety film, which must have been made in the 60s or 70s. The second film, maybe from the 50s, was a video about all the things you can draw using rectangles. Peter Sagal helped with the commentary on that one. Lastly was a film about things you could make with grass – all of the items they made looked truly awful, but neither the narrator nor the kids in the film seemed to mind. John Hodgman helped narrate that one. After their performances, Molly Lewis played a few of her songs with her ukulele. Her songs are always really well done, and I especially like her "breakup" song with Wikipedia. Finally that night was Mike Phirman. I wasn't familiar with any of his work, but he provided an entertaining performance consisting of a few really funny songs. I suppose one would be better classified as a "composition" – he introduced it as recording sounds right then and there that he could loop to produce a unique song. It started believably enough, with him using his voice to provide a beat and accompaniment. But as things progressed, you could tell it wasn't quite so genuine – at one point, he held the microphone over his head to sample the sound of a plane flying overhead.
The fourth night had a couple of readings from NPR host Peter Sagal. Like Wil Wheaton, he borrowed the talent of Paul and Storm for musical accompaniment on a couple of them. After that was Stephen Toulouse, the director of policy enforcement for XBOX Live. He gave a brief summary of what he does – banning jerks and hackers from the XBOX Live service – before reading an excerpt from this book. He described the impossible-to-decode signage in the Microsoft buildings, which was actually a lot more entertaining than it sounds. The last performance was by John Roderick, who I also hadn't heard from before. He was a very talented singer and songwriter, and it was a shame that his set got cut short a little because of time restraints.
This amazing week of concerts was capped off on the fifth night by a Jonathan Coulton all-request show! Everyone could request something and, while JoCo didn't guarantee that he would play them all, he said he would do his best to honor the requests. The result of this was a set of songs you often don't hear at JoCo's concerts, including the song he wrote in the style of Paul and Storm, as well as a song from his new album that no one has heard yet (the final version supposedly has Suzanne Vega in it!).
The last performance was ended by a group song, with all the entertainers. It was perhaps a predictable way to end everything, but it was well done and fun to watch.
Besides the concerts, I just have to say that it was a really strange sensation being in the same location as all these well-known personalities. It wasn't uncommon to, say, walk through the buffet restaurant and see Wil Wheaton come from the other direction, passing right by you. Or doing the lifeboat drill, and finding Jonathan Coulton standing a few feet away with his family. Or walking out by the pool on the Lido deck to see John Hodgman and John Roderick sitting at a table, the former wearing a large sun hat and sunglasses so as to not be recognized – unless you already knew he was on the ship, of course.
Needless to say, I never worked up the courage to actually approach or talk to any of these folks, but it was great just being able to share the same experiences. And what an incredible set of experiences they were.  This was just a brief overview, almost a stream of memories, consisting of everything we did. But there were so many little details and little experiences that I won't be forgetting any time soon.
While I would hesitate to do another JoCo cruise if it went to the same locations, I would jump at the chance to do it again somewhere else. While a cruise itself is a fabulous experience, the JoCo portion of it just pushed it over the top into something that cannot be missed.