I'm a little late in putting this post together, but it seems like I've been so busy since getting back from the convention.  Plus I wasn't really sure what I wanted to write about.  A summary seemed like the best bet.
All in all, this was a great convention.  It was strange, though, because I'm used to going to Otakon with a large group of friends, so whenever I found myself alone, it was a bit surreal.  Especially when driving to the con on Friday.  I felt excited at the anticipation of the weekend ahead, like you usually do before one of these conventions; but when I looked around and realized I was alone, it was quickly subdued.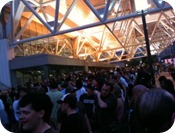 So I guess the convention actually started the Thursday before.  Even though Kim and Marty weren't going to the con, they were kind enough to wait in line with me.  Based on previous years, I didn't think the line would be that bad, but it actually ended up being HUGE.  It seems like Thursday night pre-reg pickup is the new Friday pre-reg pickup.  So not sure if we'll be doing that in the future.  Still, it got that taken care of, and we had dinner at the restaurant formerly known as the Wharf Rat.
The next morning I woke up at the same time I get up for work so that I could do some last minute packing, grab some groceries from the supermarket, and make my way back to Baltimore.  I wanted to try and get there before the hotel parking filled up — and at 10am or so, when I arrived, there still seemed to be plenty of open spots.  Even better, when I asked whether I could check in early, they had a room available.  So I was all set and all settled right away!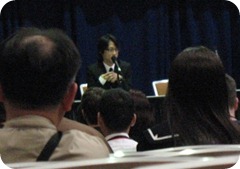 Luckily, I wasn't actually spending the entire weekend on my own.  My friend Stu was going to spend a lot of the time with me, but not until a little later in the day.  So I still had a few hours to kill on my own.  The first thing I did was try and attend the panel for Yutaka Yamamoto.  He is the director for, amongst other things, Haruhi.  And I was contemplating getting his autograph, so I figured it would be good to attend the panel if I got the chance.  Getting there before it was scheduled to start, there was a line out front of the room.  In typical Otakon style, there was no indication of what the line was for or when it would move.  Long story short, the line ended up not being for what I wanted (despite several other people saying they were there for the same thing), and so I missed the beginning of the panel.  But I still caught a good chunk of it.  And it was interesting, even though I still haven't seen most of Haruhi.  I even took a video (using my iPhone) of one of the questions asked at the panel.  It's not of a very interesting question, as there was no way to know which questions were coming up and so this is the one I ended up capturing.  And you can't see much on the video, but the audio is very good.  Anyway, here is the MOV for those interested (30MB).
I didn't attend any other afternoon events — the rest of the day was taken up with food, meeting up with Stu, and scoping out the Dealer's Room/Artist's Alley.  That evening, though, was the English dub premiere of Rebuild of Evangelion 1.0 You are (not) alone.  I wasn't really fond of the dub, although it was well done compared to other dubs I have seen.  The movie itself is very similar to the first six episodes of the original series — which I was expecting — and felt strange to be all mashed together without the contemplative breaks between episodes — something I was not expecting.  All in all, though, the result is impressive, and I will most likely be purchasing the movie when it's released.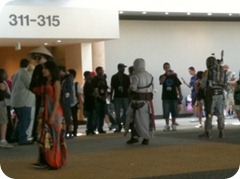 That was pretty much it for Friday.  Saturday started with Einstein Brothers and a very good Altair costume (in that order).  After that, it was more Dealer's Room/Artist's Alley — mostly the latter since we didn't get a detailed look on Friday.  After some lunch, we made our way to the AMV contest, which we watched about half of.  There wasn't a whole lot that caught our attention, unfortunately.  And the one video I really wanted to see — using The World Ends With You footage — wasn't as good as I was hoping.  Later in the evening we wanted to see if we could get into the "surviving a zombie invasion" panel, but the line filled up long before the event started, and we missed our chance.  Looking over the schedule, we decided to try "dubs that time forgot" instead.  Apparently this is a panel that has been at Otakon for a few years now, and I wish I had attended the others.  It was really good!  Basically it highlighted not only bad dubs, but multiple bad dubs that were done for different regions.  UK dubs, especially, were picked on several times — and, sadly, they deserved it.  Did you know there was a Zorro anime?  There is, and the dub was very strange.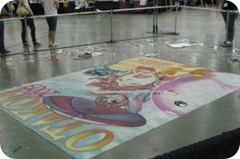 As is usual for Otakon, not much happened on Sunday.  Final trips around the Dealer's Room and Artist's Alley, picking up any remaining pieces of loot with leftover money.  Once we were happy with our last purchases, we made our way out of the convention center and had some lunch at Uno in the Inner Harbor before parting ways.
There was one last adventure on Sunday — but it was provided by the hotel, not Otakon.  They have been building a new hotel next to the convention center for a while, and earlier this year they finally opened the Hilton Baltimore.  They actually ended up having the best price and cancellation policy, so I booked my room with them for Otakon this year.  It was a beautiful hotel, and was comfortable to stay at.  One thing about all hotels nearby to a huge convention, though, is the elevators get overloaded.  During the convention, this wasn't too big a deal.  You had to wait, but eventually you found an open spot.  Some people tried the stairs, but I heard mumblings that some of the doors out of the stairwell were locked.  So then Sunday morning rolls around, and everyone has to leave to checkout.   Being on the fifth floor near the bottom of the hotel, every elevator coming down was packed.  After having waited ten, twenty sometimes thirty minutes, people were trying to resort to using the stairs — at other hotels during previous Otakon conventions, that has been standard practice, and it works.  Except, it quickly became clear that the mumblings I had heard all weekend were true: the first and second floor doors in the stairwell were locked.  People were actually crowding outside the doors, pounding on them, trying to get someone on the other side to open them.  Everyone was joking that they should pull the fire alarm to try and get the doors to unlock.  So back to the elevators we went, preparing ourselves for a long wait.  As soon as we made it back — the fire alarm went off.  After a quick glance at each other, and a laugh, we made our way back to the stairs.  Down on the second floor, a hotel staff member was holding open the door and everyone was filing out.  It quickly became clear why the door was locked: the stairs led out into the hotel restaurant kitchen, giving us a tour of the prep and cooking area before walking out into the hotel lobby.  We're still not really sure what happened: did someone get so frustrated that they pulled the fire alarm?  Or did someone force open the second floor stair door?  All I can say is that I hope in an actual emergency, the doors do automatically unlock themselves.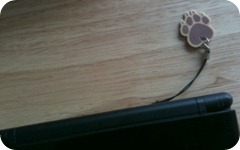 All things considered, this was a great convention.  Looking back, we didn't attend a large number of panels or events, and I didn't even snag anyone's autograph.  But it was still fun, and spending time with Stu was wonderful.  It's actually a little interesting because, at least in situations like these, he is more outgoing than I am.  So it draws me out more than I usually am, which yielded some interesting random discussions with other otaku.
Thank you, Otakon, for another great convention, despite all your usual flaws.  And thank you, Stu, for being a great companion and friend throughout the weekend, and putting up with me dragging you around the Dealer's Room a lot more than I'm sure you wanted to. ^^;  And of course, thank you to Kim and Marty for waiting in the humid Baltimore evening air while I picked up my pre-reg. ^^
Here's to next year. :o)